History of Spatha Fencing Club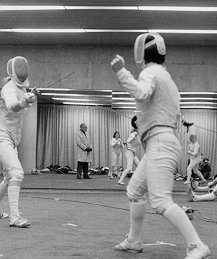 The SPATHA fencing club provides members with the opportunity to learn fencing, and to compete in fencing tournaments. We provide training facilities, equipment, and coaching for all levels of fencing, from beginners to experienced fencers. The goal of the club is to make the sport of fencing available to everyone in the local community.
We run beginners courses starting each year, and hold regular training sessions weekly. We also provide for individual instruction, and we organise several competitions. Fencers can compete with other clubs, Victorian, and National competitions.
The club maintains a high profile within and without the fencing community. Over the years we have distinguished ourselves as a club of excellence both on and off the fencing piste because of our professional approach to fencing and event management.